T.I. Mocks Melania Trump In New Video, Her Spokesperson Calls For Boycott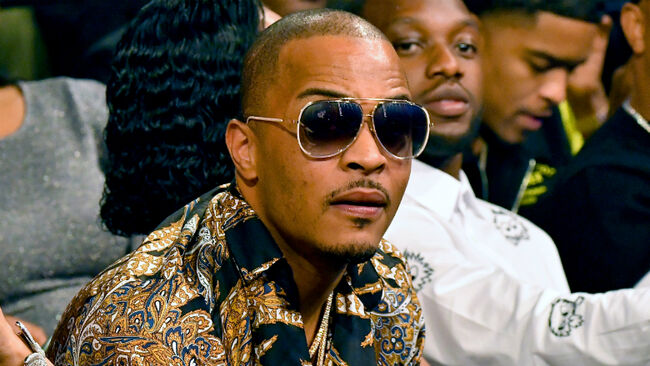 Some call it artistic expression, others call it, disrespectful, either way, T.I. doesn't seem to care what anyone thinks about the latest promo for his new album, Dime Trap.
The "Wraith" rapper sent a message to Donald Trump (he literally captioned the shared video: "Dear 45, I ain't Kanye") on Friday (October 12) when he released a promo video that showed a look-alike Melania Trump stripping for him in the oval office.
The clip begins with a video of Trump boarding a helicopter while a voiceover says: "Melania Trump did not go to Mar-A-Lago with President Trump this weekend, which has a lot of people wondering..." The clip then cuts to Tip in the Oval Office before showing look-alike First Lady walking into the room wearing Mrs. Trump's infamous "I Really Don't Care, Do You?" jacket. However, the tone-deaf outfit doesn't stay on for long, as the look-alike begins to strip for Tip. A montage is then shown of her and T.I. vandalizing a photo of Trump before the clip cuts to a video of 45 riding in a golf cart.
While T.I.'s video has been met with both laughs and criticism, some have called for an entire boycott of the "Jefe" rapper. No one has led the charge for said boycott more than Melania's Communications Chief, Stephaine Grisham. "How is this acceptable? #disgusting #boycottT.I," she tweeted after the video was released.
T.I.'s controversial video seemed to be in response to Kanye West's bizarre visit to the White House last week. As previously reported, the "I Love It" rapper went on what many have called a "dangerous rant," where he gave false figures and spewed false "facts" about the African American community. Ye, at one point, even hugged 45, telling him he looked up to him as a "hero" and felt like "Superman" when wore his "Make America Great Again" hat.
T.I. was one of the first rappers to publically reject Ye's White House behavior, writing on Instagram, "Now I've been extremely patient and made it a point to not jump to any premature conclusions about Ye'& his antics... But now this sh*t is next level,futuristic Sambo,Hopping Bob, Stephen off Django a** sh*t Ye!!!! From what I can gather... This is the most repulsive,disgraceful, Embarrassing act of desperation & auctioning off of one's soul to gain power I've ever seen."
Photo: Getty Images